Elevate Your Event with LED Video Walls
Are you looking for a show-stopping addition to elevate your event production? Look no further than LED video walls! These vibrant and dynamic displays have become a game-changer in the world of event planning, creating mesmerizing visual experiences that leave a lasting impression on attendees. Whether you're organizing a corporate conference, concert, trade show, or any other large-scale gathering, adding an LED video wall can take your event to a whole new level of excitement and engagement.
Immersive Visual Impact
One of the primary reasons to incorporate LED video walls into your event is the stunning visual impact they offer. The high-resolution screens can display vibrant colors, crisp images, and eye-catching animations that captivate your audience from every angle. Whether you want to showcase keynote speakers, product demos, or artistic visuals, an LED video wall ensures everyone gets a clear and immersive view, no matter where they are seated.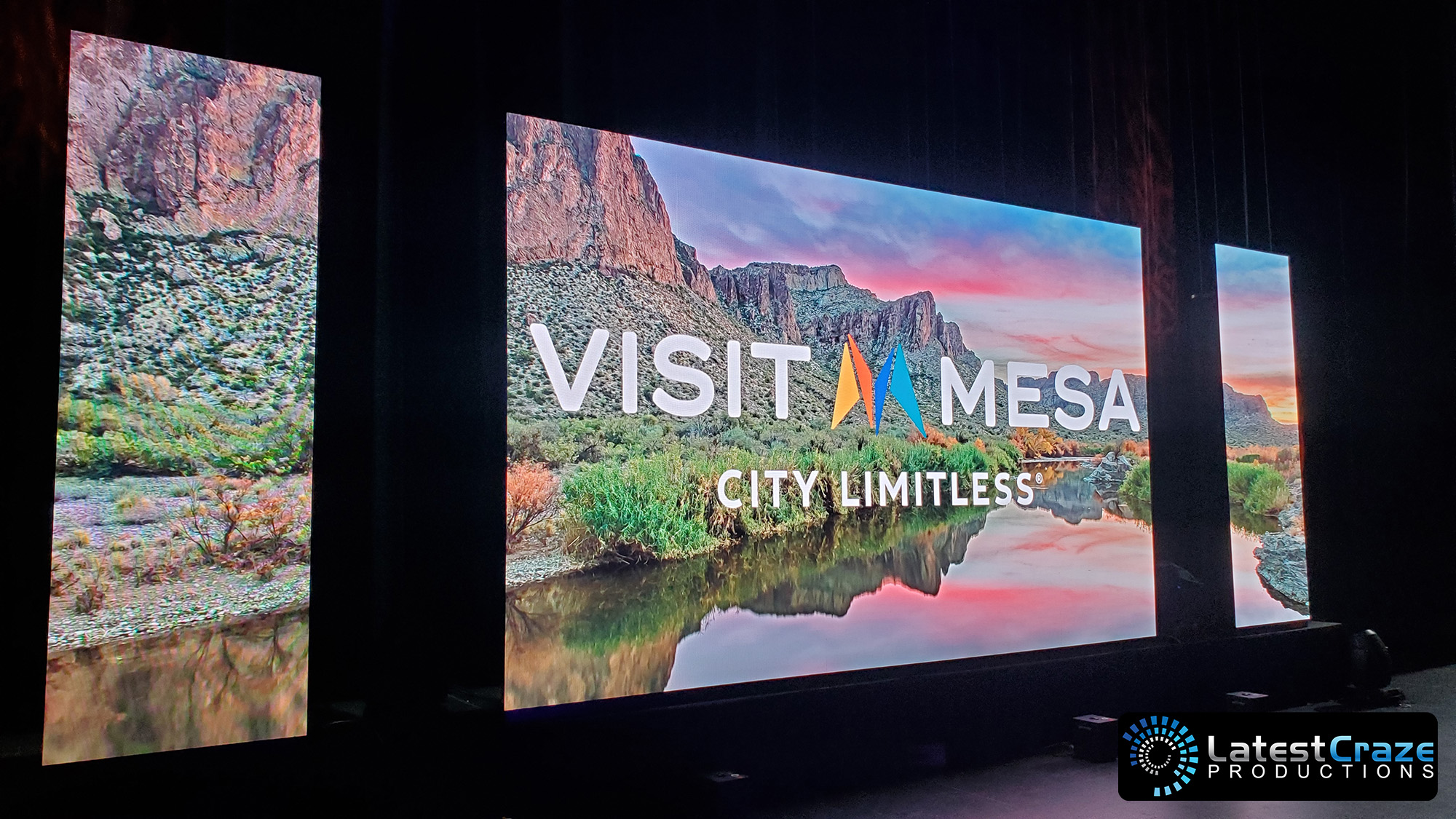 Flexible and Customizable
LED video walls are incredibly versatile, making them suitable for any event setup or venue. The modular nature of these displays allows you to create custom configurations to fit the dimensions of your stage or event space. Whether you prefer a single massive screen or multiple screens for added versatility, LED video walls can adapt to your needs seamlessly. Additionally, you can change content on the fly, providing an opportunity for real-time updates, sponsor recognition, or audience engagement through live social media feeds.
Dynamic and Interactive Experiences
For corporate events and trade shows, LED video walls present an incredible opportunity to reinforce your brand identity and messaging. With the ability to display logos, slogans, and branding elements in high-definition, you can effectively build brand recognition and create a lasting impression on your attendees. Captivating visuals and branded content also enhance the overall experience, making your event more memorable and impactful.
Engagement is the key to a successful event, and LED video walls excel in creating dynamic and interactive experiences for attendees. Whether you use them for interactive presentations, live polls, or audience Q&A sessions, these digital displays encourage active participation and keep your audience engaged throughout the event. The use of video mapping and 3D effects can also add a touch of creativity and excitement to your event, leaving your attendees awestruck.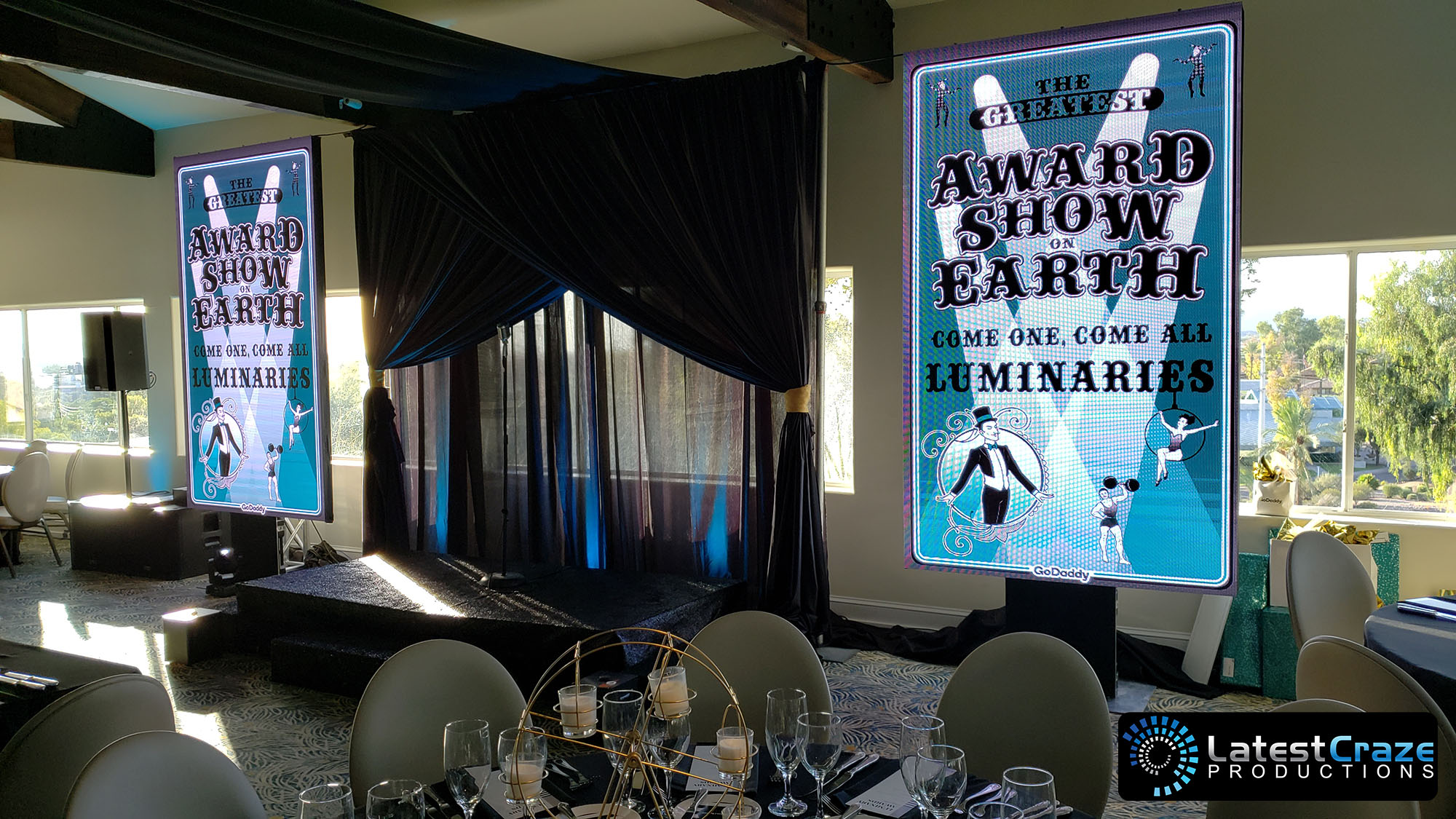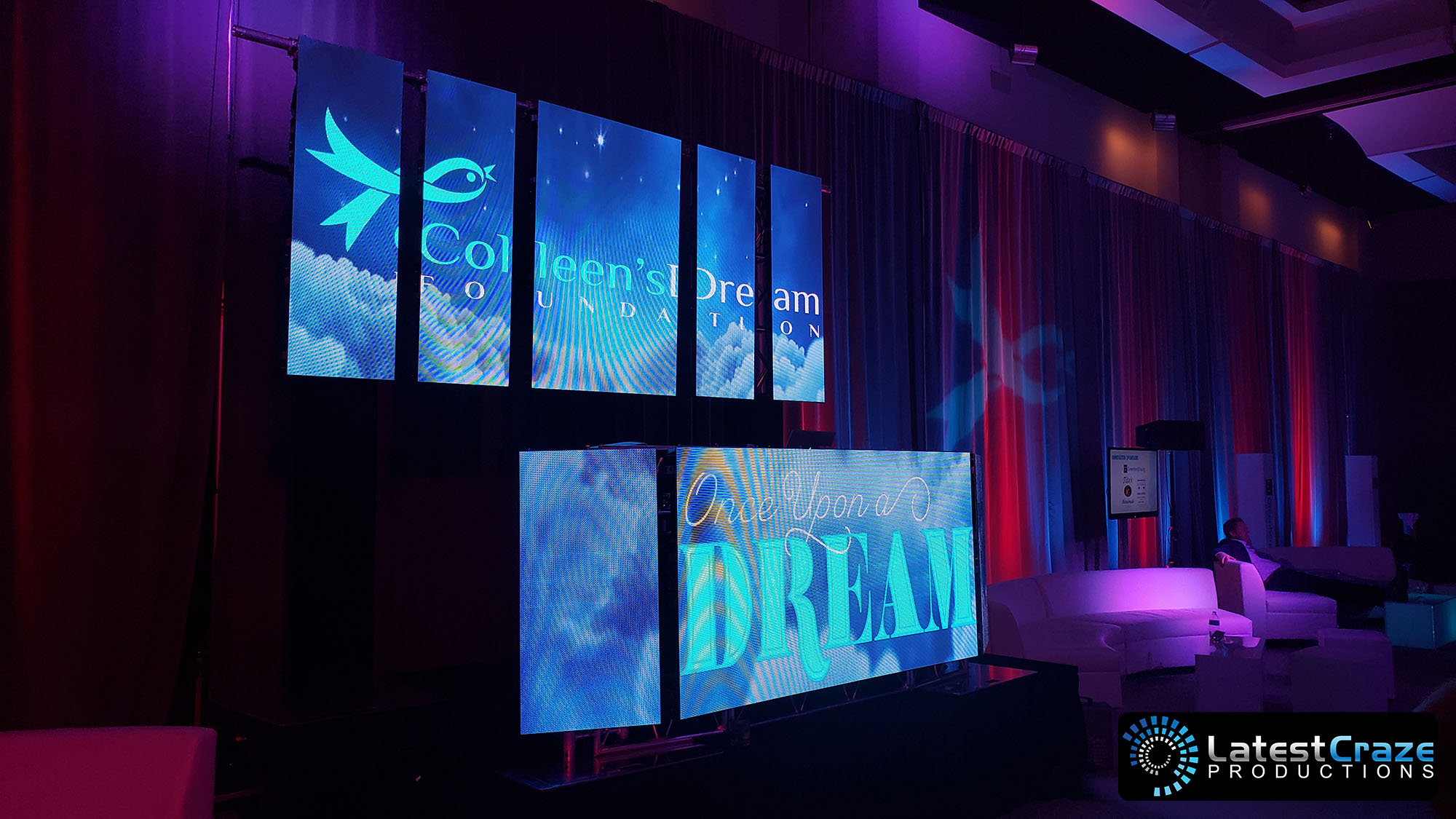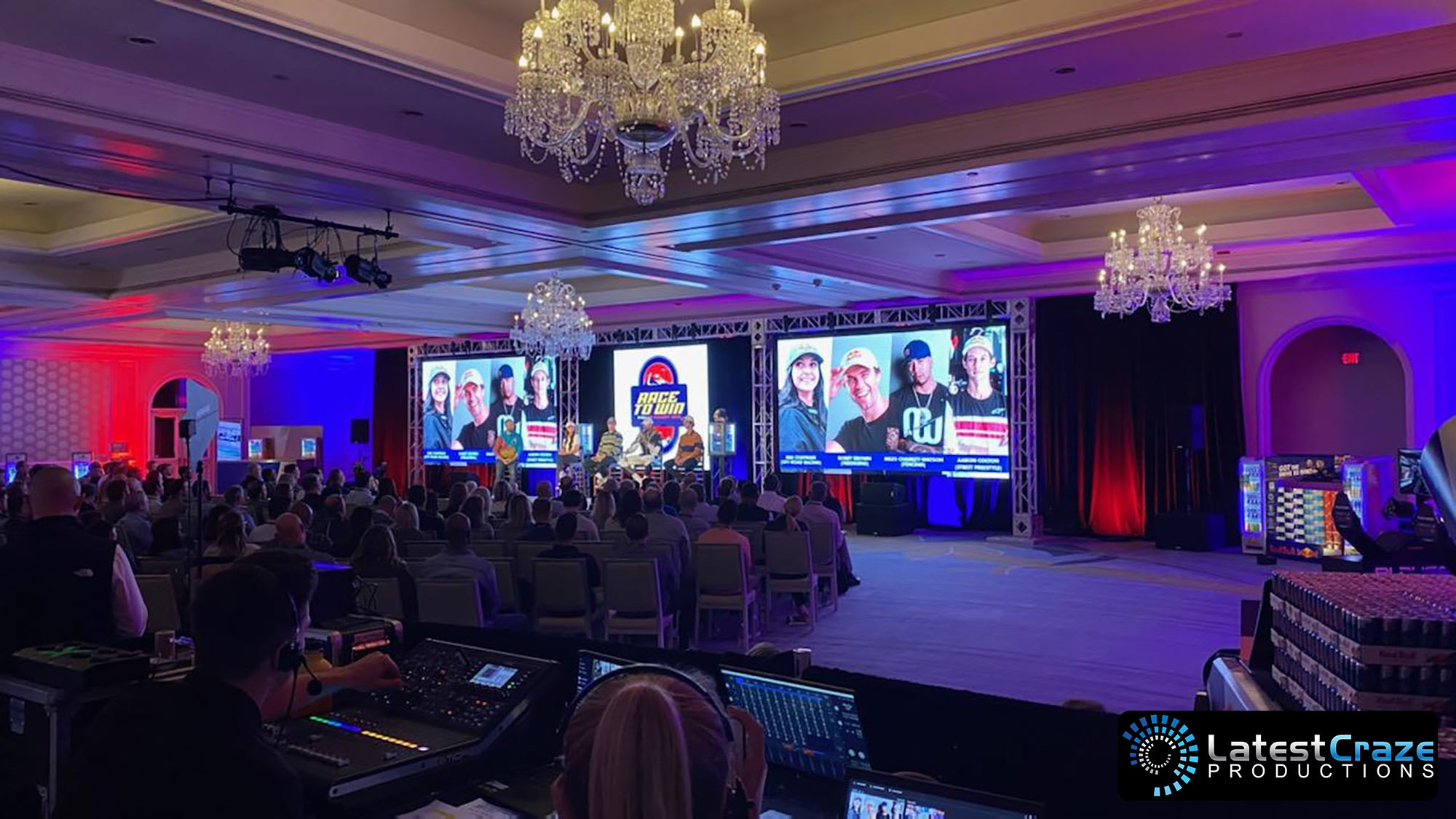 Improved Production Value:
The inclusion of LED video walls elevates the production value of your event to a professional level. These high-quality displays can elevate even the simplest event into a visually striking and unforgettable experience. Moreover, with improved production value, your event gains a reputation for excellence, attracting more attendees, sponsors, and media coverage for future endeavors.
Mobile LED Video Wall
At Latest Craze Productions, we're proud to bring you a new innovative mobile led video wall solution!  This 10'x16′ mobile led video wall is permanently attached to a trailer so we can literally just roll it into your outdoor event for an instant video screen.  The built in hydraulic lift raises the wall to about 8′ above the ground so your screen will be seen from anywhere in your event.  The screen is also outdoor weather IP rated so it can withstand dust and rain.  The bottom trailer is in all black so it virtually disappears from the eye during your event.  But we can always use a dress kit to hide it.  This is just another way that Latest Craze Productions is leading the way in event production!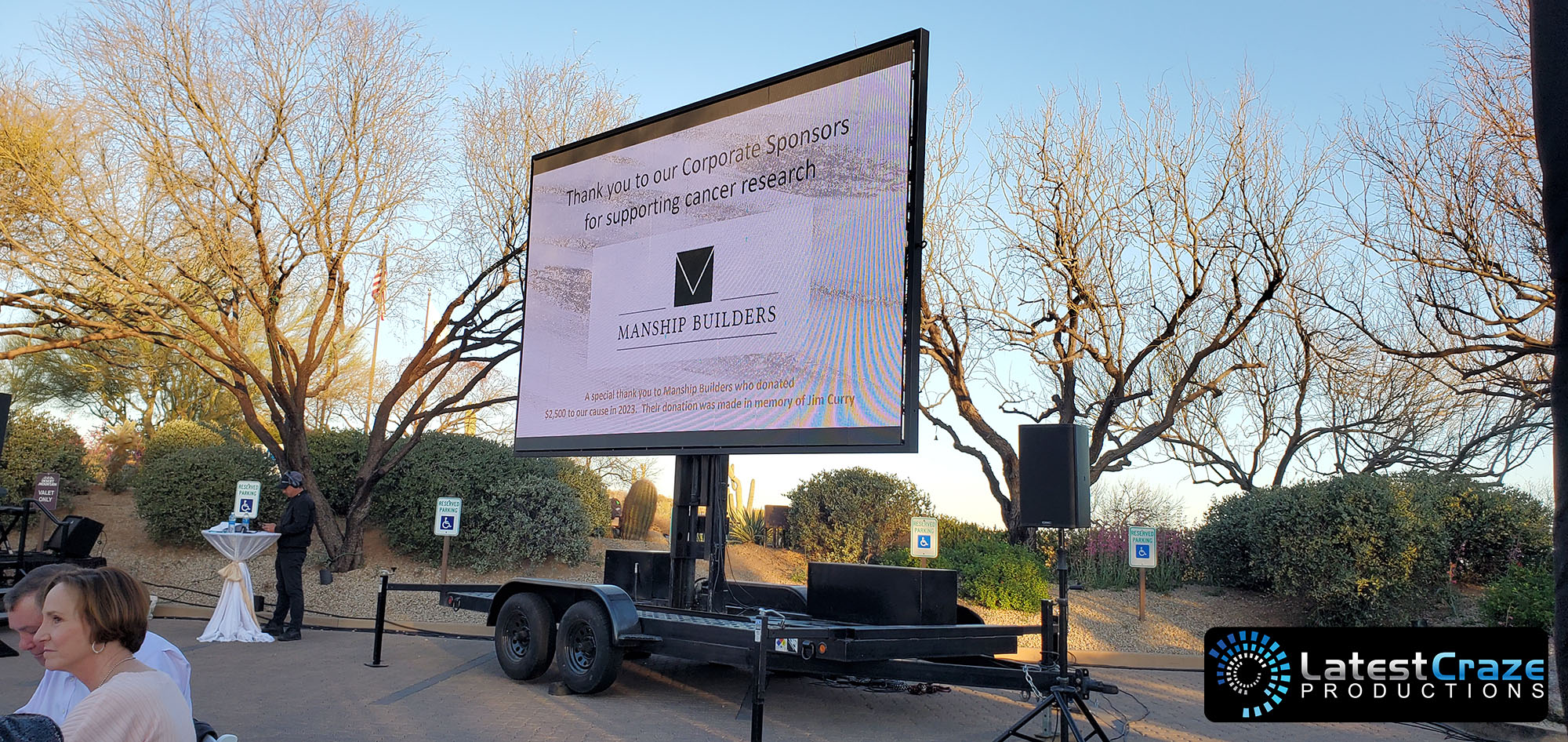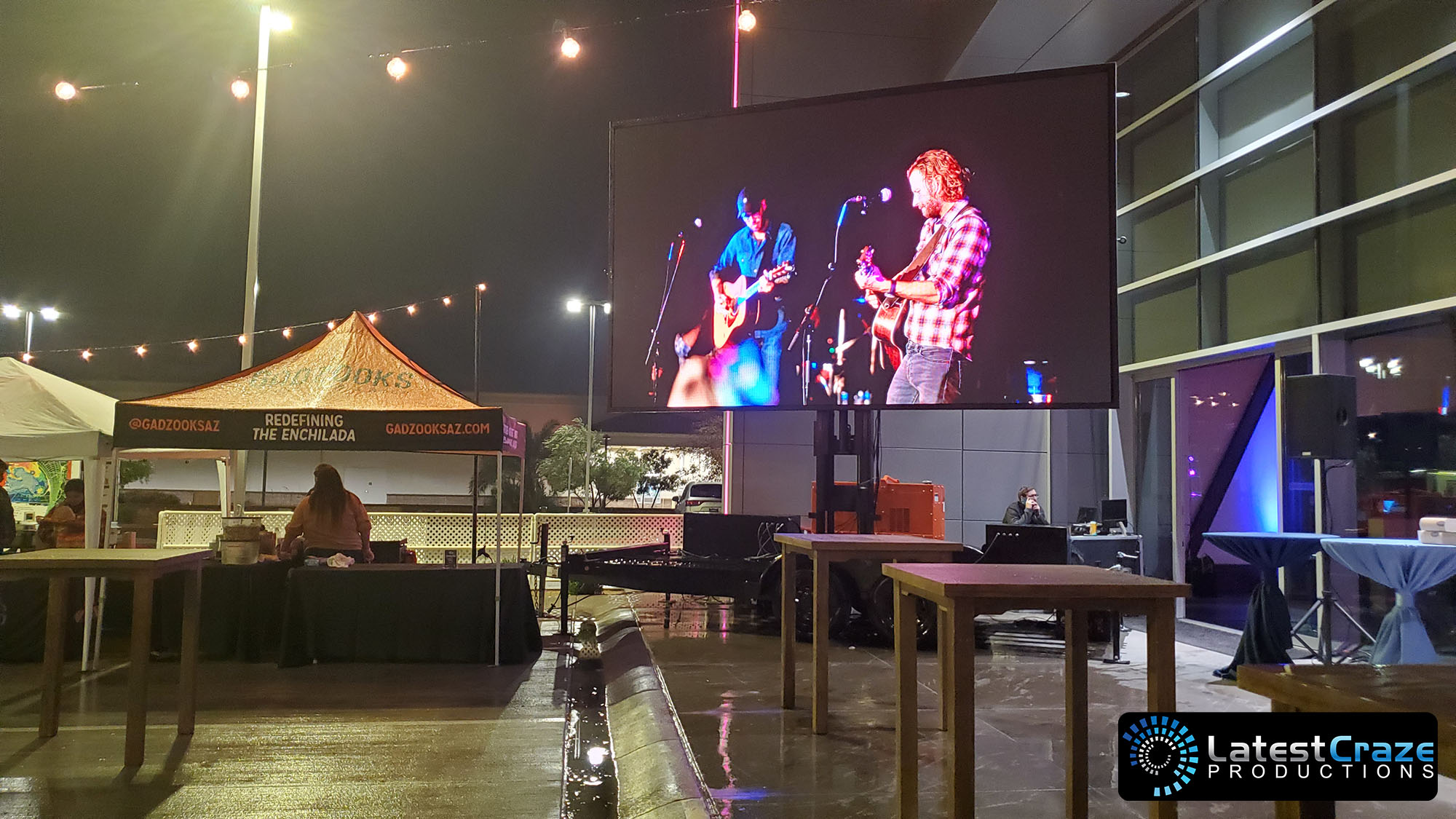 In conclusion, incorporating LED video walls into your event production can be a game-changing decision. These cutting-edge displays offer an immersive, versatile, and interactive visual experience, creating lasting impressions on your audience and enhancing the overall quality of your event. So, whether you're planning a corporate gathering or a grand concert, make sure to consider the tremendous impact of LED video walls in transforming your event into a resounding success.